Brit Hotel Toulouse Colomiers – L'Esplanade
Hotel - Restaurant - Seminar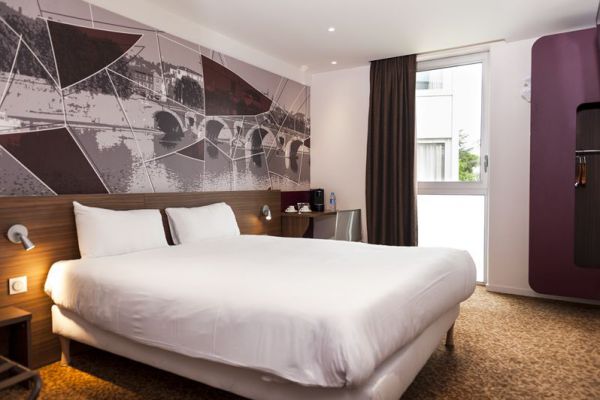 Welcome to the
Brit Hotel Toulouse Colomiers - L'Esplanade
website.
Located very close to the Airbus site, we are located on the Esplanade (plaza) of Colomiers, 10 minutes from Toulouse city centre, Blagnac airport and the rugby stadium.
We offer 64 comfortable and functional rooms for professional or family travellers.
Our 100-cover restaurant, l'Esplanade, welcomes you every day of the week. Our chef has the particularity to include, in his recipes, many regional products. Quickly discover our menu of the day.
We regularly organise seminars, conferences and other study days, in our room which can accommodate up to 40 people. Find out more about our seminars.
Finally, take advantage of your stay in Toulouse to discover the history of the pink city and its many monuments.

Car park
Free

Check-In
12h

Check-Out
12h
> See the amenities

Home 24H/24

Night watchman

Luggage

Elevator

Check-in

Check-out

Bar

terrace

64 rooms

Air-conditioned rooms

Phone

Télévisions

Animals accepted : €8,00
Bathrooms

Hairdryer


Balneo bathtub

TV Lounge

Free Wifi

Optical fiber

Species

Bank checks

Holiday vouchers

Carte Bleue

American Express

Tickets Restaurant

Parking private secure free
Restaurant

Hotel's restaurant

Air-Conditioned Restaurant

Traditional cuisine
Terrace

Snacking

Room Service

1 Room (s) seminar

40 Max capacity

Room (s) heated (s)

Breakfast Buffet : €13,00

Stopover : 118€/150€



The reviews
of our customers
Indice de
Satisfaction client
Excellente comme d'habitude
Read more
Good, practical, clean, decent breakfast, good location
Read more
Excellent
The girls were a great help to me. They were fantastic. Only suggestion is to have wash clothes and hair conditioner in rooms. And clocks.
Read more
Bien hôtel pour occasions differentes d'affaires
Very friendly and professional staff. Hotel is in a good location , easy to reach. Good recommendation for short trip business travellers . Over all, a pleasant experience.

Hotelier's response :
Dear Guest, Thank you for the great review of our hotel! We are glad that you enjoyed your stay and hope to see you again very soon. Sincerely,
Read more
Great food, comfortable bed and friendly staff
Food was great and good value. Very close to my place of work. The rooms do need redecorating. I had an odd occurrence where on arrival to my room there was a 20m electric cable extension left on the floor unwound so cabling everywhere (trip hazard). I reeled it back in and put it under the table in my room. When I went down for dinner and came back later the reel of cable had gone. Someone had let themselves into my room to take it back.
Read more
It's a solid value
Nice room, very clean, comfortable bed, and an amazing breakfast !
Read more
It's a solid value
Nice room, very clean, comfortable bed, and an amazing breakfast !
Read more